Ford Wire Harness Color Code Diagram Guide
Ford, the iconic American automaker, has devised a clever system to simplify our lives whenever we need to fix or replace some parts. Within their wire harnesses, you'll find six distinct colors that hold the key to unraveling the purpose of each wire. Let's delve into this chromatic enigma and unlock its secrets.
So basically, a color code serves as a crucial guide to identifying the purpose of each wire. This code consists of various colors specific to Ford vehicles, providing valuable information for replacing or repairing wire harnesses. Here, we will explore the colors commonly used in Ford wire harnesses and offer tips on locating the appropriate colors for your particular requirements. It's important to note that wire colors can differ based on the model and year of your vehicle.
What are the Colors of a Wire Harness?
Black is the grounding wire, guiding electrical current back to its source. Moreover, black harnesses exhibit lower heat absorption, safeguarding the wires from excessive exposure. Consequently, black is an excellent choice for numerous wire harness applications.

Brown wire work for power supply circuits. It's like stumbling upon a wellspring of electrical energy, ready to power up components. Brown's relatively dark shade enhances visibility, particularly in low-light conditions encountered in automotive environments. 

Yellow wire is synonymous with lighting. From headlights to taillights, it illuminates our way on the road, ensuring visibility and safety.

Green, the color of nature, takes center stage, connecting to the ignition system and igniting the engine's fire. 

Blue wire, reminiscent of a calm ocean, often accompanies auxiliary accessories like power windows, climate control, and audio systems. It enhances our driving experience with comfort and convenience.

Red wire supplies power and handles high-current loads. From electric fans to fuel pumps, it bravely delivers the necessary energy.
With this Ford wire harness color code guide in hand, you hold the key to understanding the purpose behind each wire. No longer will you be confounded by a web of tangled cables. Instead, you'll confidently navigate the intricacies of automotive electrical systems like a seasoned pro.
What are the Colors of a Wire Harness?
A wire harness is a crucial component in electrical systems, providing organized and reliable connections. Understanding the colors used in wire harnesses is essential for correctly identifying and working with different types of wires. 
For instance, the protective ground wire in a wire harness ensures safety by grounding electrical systems and components. It is typically color-coded as green or green with a yellow stripe. This grounding wire safeguards against electrical shocks and helps divert excess current in case of a fault.
The neutral wire is color-coded as white. It completes the circuit and carries current back from electrical devices to the power source. The neutral wire helps balance the electrical load and is essential for the safe operation of electrical systems.
In single-phase electrical systems, the hot wires carry the current from the power source to the electrical devices. The hot wires are color-coded as black and red. Black is commonly used as the standard color for hot wires, while red is used as an alternative for a second active wire in specific configurations.
Three hot wires are used in three-phase electrical systems to distribute power more efficiently. Each hot wire carries the current at a different phase. The color coding for three-phase lines is typically red, black, and blue. This arrangement allows for properly distributing and balancing electrical loads across the phases.
What is the Color Code of the Cable and Wire?
Cables and wires are often color-coded to indicate their specific functions in electrical systems. The most common color code includes red, black, and grey/white, with each color serving a distinct purpose:
Red cables carry positive currents and are typically associated with power supply lines or connections that transmit the active or live electrical current.
Black cables are used for negative connections. They serve as the return path for electrical current or are employed for grounding, ensuring safety and diverting excess charge.
Grey or white cables are commonly used as ground wires. These wires create a secure pathway to the dissipation of excess electrical charge, mitigating the risk of electrical shocks or damage.
It's important to note that while these color codes are widely used, variations can exist depending on specific applications, industries, or regional standards. Always refer to appropriate wiring diagrams, standards, or regulations relevant to your situation to ensure accurate identification and safe handling of cables and wires.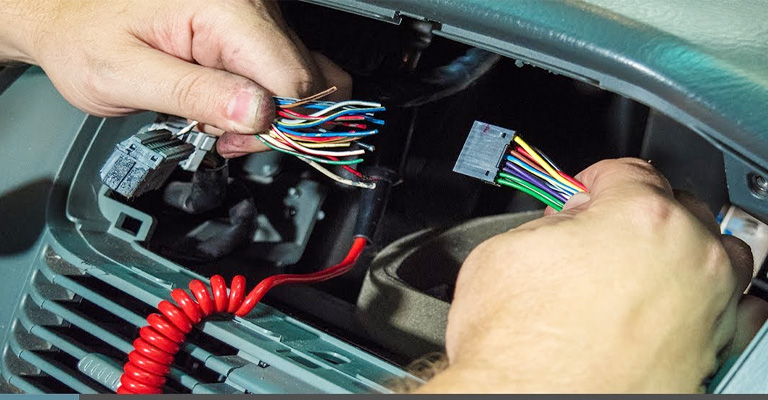 Ford Wire Harness Color Code Guide by Model
Wire harness color codes can vary among different Ford models and even different model years of the same vehicle. It's important to consult the specific wiring diagrams or documentation for the particular Ford model and year you are working with to ensure accurate wire harness color code identification. Depending on changes in wiring configurations, updated standards, or regional variations, the color codes may differ to accommodate these differences. Therefore, referring to the appropriate resources when dealing with wire harness color codes for a specific Ford vehicle is always advisable.
Ford Wire Harness Color Code
| | | | | |
| --- | --- | --- | --- | --- |
| Wire Function | F150 (2004-2008) | F150 (2009-2014) | F250 | Fusion 2008 |
| Constant 12V | Light Green/Violet | White/Red | Light Green/Violet | Blue/Red |
| Accessory | Light Green/Yellow | Blue | Pink | Green |
| Ground | Black | Black/Blue | Black/Light Green | Black/Blue |
| Illumination | Light Blue/Red | Voilet/Gray | Light Blue/Red | Not specified |
| Amp Trigger | Not specified | Not specified | Blue | Not specified |
| Left-front Speaker (+) | Orange/Light Green | White | Orange/Light Green | White |
| Left-front Speaker (-) | Light Blue/White | White/Brown | Light Blue/White | White/Brown |
| Right-front Speaker (+) | White/Light Green | White/Violet | White/Light Green | White/Purple |
| Right-front Speaker (-) | Dark Green/Orange | White/Orange | Dark Green/Orange | White/Orange |
| Left-rear Speaker (+) | Gray/Light Blue | White/Green | Gray/Light Blue | Brown/Green |
| Left-rear Speaker (-) | Tan/Yellow | Brown/Yellow | Tan/Yellow | Brown/Yellow |
| Right-rear Speaker (+) | Orange/Red | Brown/White | Orange/Red | Brown/White |
| Right-rear Speaker (-) | Brown/Pink | Brown/Blue | Brown/Pink | Brown/Blue |
| Antenna Trigger (Fusion) | Not specified | Not specified | Not specified | Purple/Black |